Buy less, choose well and swap the clothes you no longer wear at the Global Fashion Exchange
The Global Fashion Exchange (GFX) is coming to Lisbon!
Founded in 2013, GFX is a platform that promotes sustainability in the fashion industry through forums, educational content, cultural events and interactive clothing swaps. During its first edition, 5.2 tons of clothes were swapped by 1500 people.
In Lisbon, the Global Fashion Exchange will take place at ModaLisboa – Lisboa Fashion Week, at CCB, on March 11 and 12. During the Swap, on Sunday, people will be able to exchange clothes they no longer use, renewing their wardrobes for free.
We talked to Patrick Duffy, founder of Global Fashion Exchange, to find out more about this initiative.
UniPlanet (UP): When and how did the Global Fashion Exchange (GFX) come about? What led you to create a platform promoting sustainability in the fashion industry?
It came about back in 2012 when I was on a visit to Copenhagen Fashion Week. I was very impressed with their commitment to sustainability and how they approach the rather large issue that currently is one of the largest waste producing industries in the world. It was on this trip that I experienced a clothing swap and the lightbulb went off in my head. So I decided to create a currency that everyone has access to, the clothing they no longer use which makes up a huge percentage inside closets around the world. After learning more about the huge challenges that the fashion industry faces and that most of the work I was doing inside the industry was contributing to the problem, I decided to make a change. Taking all my previous experience with experiential marketing and large (and small) events all over the world I knew what needed to be done. Make sustainability chic and sexy as it was the only way to get consumers, brands and big companies to jump on board and make a change, and here we are!
UP: Can you please tell us what happens during a clothing swap event and how can people take part in it?
It's very simple. People go into their closets and simply take the clothing they no longer wear or use. That makes up about 30% of the average closet! They bring those clothes to the swap and we weigh and sort the items. We weigh the items because we want to see just how much clothing we can save from going to landfill and we sort it by "High Street (H&M, Zara, GAP) and High End (Marc Jacobs, Prada, Armani)". After people bring clothing and drop it off at the entrance point they receive a ticket that displays how many items they brought. We have a 1-to-1 system that means if you bring one item, you take one item. So if you bring 2 H&M tops and a Prada belt, you get to take 2 items from the High Street section and 1 from the luxury section. We set the swap up like a fun boutique with music, culture and lots of fun so people have a great time when they are swapping. It's very social and lively!
UP: What happens to the clothes that are not swapped and are left behind?
We are working with I:CO (I Collect), which is our recycling partner for this event. For any clothing or textiles that are left behind I:CO will collect the garment and send it to their recycling center to be turned into new items. It's very important for us to close the loop and make sure we are not creating more waste than what we started with. They have been a huge support to us and have helped us design the education elements for GFX that allow people to learn more about textile rescue and recycling. Check them out here.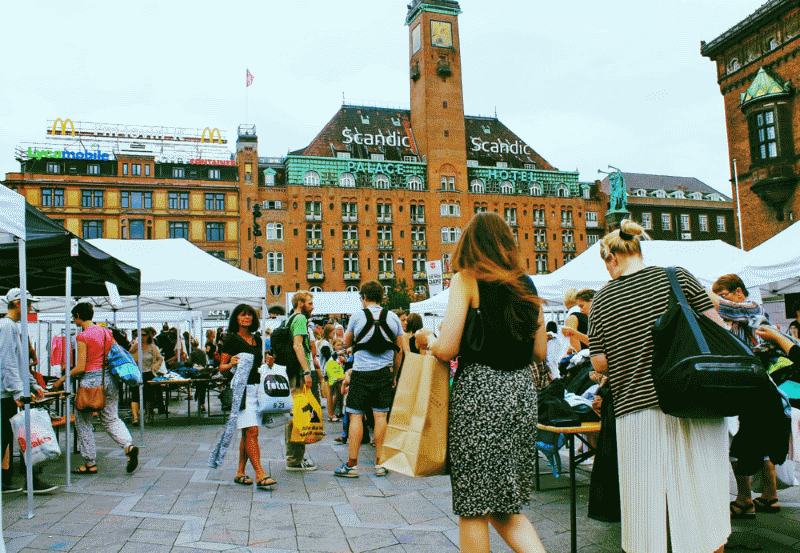 UP: The fashion industry faces a number of issues, particularly in regard to its environmental impact and the prevalence of labour rights violations. It has been deemed the second largest industrial polluter in the world and there are quite a few recent reports on the use of forced and child labour in its supply chains. Do you believe that fashion can be sustainable?
This is the tough part. There is a conflict here and big brands and companies/fast fashion companies don't want us to see just how destructive and waste producing they are. At the end of the day what they are concerned about is sales and money, and many brands put that BEFORE they put being a conscious company that truly cares about its footprint, impact and how it treats its workers. If you think about how the industry has changed in the last 40-50 years, we have been trained by brands and media who want us to consume their products and make them lots of money. The more we consume, the more money they make, it's pretty simple. When you think about it like this, one fast fashion company has over 5 thousand stores and they make 21+ deliveries a year, that's a huge amount of clothing and waste that is being produced. Generally clothing doesn't last that long so people are forced to go back into the cycle and purchase more, creating a very destructive cycle that is much larger than just landfill waste. It's resources, water usage, packaging, pollution, waste… you get my point.
To answer your question, yes, I think it can be a sustainable one BUT something needs to change and it needs to change now. Not tomorrow, not next week…now! We need people to stand up and work with the companies to demand change. What we're doing with GFX is showing people that being conscious and making the right choice IS sexy! Another amazing example is a project called "Fashion Revolution", a global campaign that is designed to educate people about who actually made the garment and where it came from. Things like this will spark interest from the consumer, allow them to make choices that will (hopefully) lead to a more sustainable industry. It's going to take a lot of work, but now more than ever brands and companies are listening and starting to go in the right direction.
UP: It's also concerning that people are wearing their clothes as few as 7 times before losing interest in them. Do you have any advice to help consumers make sustainable choices?
As my personal icon Ms. Vivienne Westwood says, 'Buy less, choose well" and if that's not available to you, as spending lots of money on luxury items doesn't make sense for everyone, seek well made items at vintage, thrift stores or swaps and have them tailored to fit you perfectly. Many times vintage items are very well made and look just as good, if not better, than new items.
UP: Finally, what, in your opinion, are the three reasons why we shouldn't miss the GFX?
This is the toughest question of them all! Kidding! Just by coming to GFX you show your support and interest in making a CHANGE. You'll be a part of a global community of people who are all thinking the same way you are, get access to many new, fun and stylish garments you might never have had access to before and it's FUN! We make it like a social event and party, get your photo taken, dance a little, drink fresh organic juices, share your story and meet new people. Who wouldn't want to come?